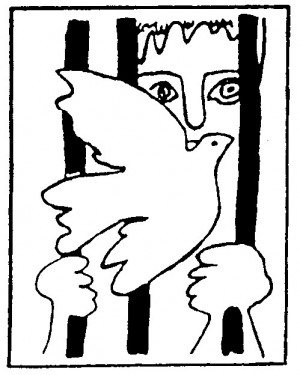 "There is but one law for all: the law of humanity and justice"  - Jimmy Carter
Those words adorn the wall inside the courtroom of Judge Stephen Hyles at the Columbus courthouse. And there they remain, strong words that ring hollow in face of injustice, merely adornments.  For her act of peacefully crossing the line at Fort Benning, Georgia - a misdemeanor offense - a 6-month sentence was imposed on Theresa Cusimano. Those who train men with guns at the SOA/WHINSEC, those who created those torture manuals, have never had to defend their actions, yet Theresa is being sentenced to six months in prison for nonviolently calling attention to the US military's role in the violence carried out against her sisters and brothers in the Americas.
The SOA Watch movement continues its struggle to close the SOA/WHINSEC and end US militarization.  Theresa follows in a long line of peacemakers who have put their bodies on the line to call attention to the continued injustices.  Indeed, Theresa served a 2-month sentence in 2009 for her peaceful actions at the SOA/WHINSEC at the 2008 November Vigil.
UPDATE: JULY 11, 2012 - Theresa has been released from FMC Carswell!
Don't let Theresa's actions go to waste! She has requested that supporters send messages to various TV shows, asking them to host Fr. Roy Bourgeois and take the SOA to the court of public opinion.  
Send your message here
!