Written by Hendrik Voss
Friday, 17 January 2014 01:18
We've started a new year and our movement continues to be stronger than ever. Together we actively challenge U.S. military and economic intervention in the Americas and together we are actively working to build a culture of peace. Our movement is ever evolving, building and advancing a new vision for our work and for a just world. We remain committed to supporting the growing leadership of youth within our movement. To that end, we are pleased to introduce a project of our Youth Collective -- Rooted in Resistance, Sembrando Soberania: Youth Encuentro in Latin America.

Last Updated on Friday, 17 January 2014 01:30
Read more...
Travel with SOA Watch to El Salvador (Jan. 27 - Feb. 4, 2014) to observe the presidential elections, and to Guatemala (Feb. 15 - 23, 2014) to visit indigenous communities who brought SOA graduate Rios Montt to trial on charges of genocide. Learn about the reality of U.S. foreign policy in Latin America. 

Read more...
SOA Watch just released Sing it Down: Songs to Close the SOA, a brand new CD with inspiring songs from some of the movement's leading musicians.
Read more...
| | | | |
| --- | --- | --- | --- |
| Call on the State Department to stop legitimizing fraudulent Honduran elections | | | |
Wednesday, 04 December 2013 20:55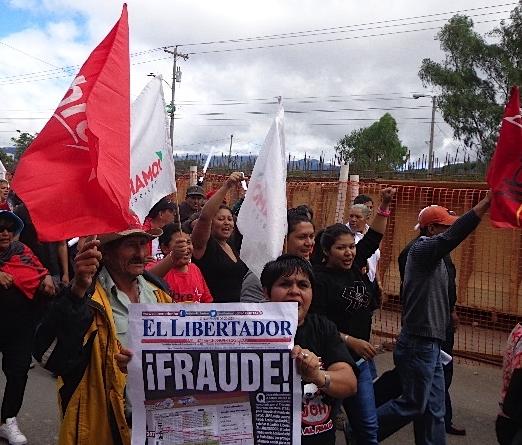 On Sunday, November 24, Hondurans went to the polls in record numbers to vote in their presidential elections. In the country with the highest murder rate in the world and targeted repression of the opposition and social movements, many Hondurans voted for change, including for Xiomara Castro, the candidate for the new LIBRE party which was created out of the resistance to the 2009 SOA-graduate led coup that ousted her husband, President Mel Zelaya. Despite outright vote buying, vote counting problems, selling of election credentials, irregularities in posted voting certificates, discrepancies in the results released by Honduras' Electoral Tribunal (TSE) and those received by the parties, and other signs of fraud, Juan Orlando Hernandez of the ruling (National) party was declared the winner. Libre and PAC, another new party running on an anti-corruption platform, have refused to accept the TSE's results, citing widespread fraud, but the US has supported the ruling party, calling the elections "transparent." Call on the U.S. to stop legitimizing fraudulent elections in Honduras!

Last Updated on Friday, 06 December 2013 05:24
Read more...
<< Start < Prev 11 12 13 14 15

16

17 18 19 20 Next > End >>


Page 16 of 36