SOA WATCH YOUTH ENCUENTRO
a photo reflection by Lisa Sullivan
Declaration of the Encuentro
We reaffirm our commitment to build a free and sovereign continent in harmony with Mother Earth, where people orient the direction of our steps freed from imperialism, capitalism, violence, injustice, exploitation, oppression, discrimination, racism and patriarchy.
Grounded in our historic responsibility, we call on young people of the Americas to organize and continue the struggle for a dignified life, with social justice for everyone.
For the unity of our America!
Sanare, Venezuela, July 2014
Jezell, Adolfo, Carlos, Danilo, Sandino, Sandra and Tanya never should have met.  That's probably what the command center of WHINSEC is saying to each other right now. The tenacious resistance and creative alternatives that each of these young leaders is forging in their respective communities in  Nicaragua, Bolivia, Argentina, Guatemala, Arizona, Venezuela, and Mexico should have been quietly contained behind  borders.
But last month's SOA WATCH Youth Encuentro wrecked that idea. Not only did these seven young people share struggles and strategies (as well as terere, tamunangue,  poetry, tears, laughter, and hugs), but they did so with 26 other young leaders, from 18 countries of the Americas. What a fabulous disaster!
While WHINSEC also brings together  young men and women from the Americas (many with equally noble dreams and hearts) their purpose is to teach how  to repress fellow citizens in order to protect foreign corporate interests. This SOA Watch gathering or "Encuentro"  of young people from the Americas, was to promote the sum opposite: an interchange of unique and authentic alternatives that place people, communities,  rivers, skies, seeds, land, and the intricate beauty of millennial cultures high above corporate greed and military might.
The theme of the Encuentro was "Rooted in Resistance, Sowing Sovereignty". That title might be more decipherable by those in Latin America than those in the North.  While in the U.S. we certainly understand the term resistance (after all,  our country was founded on the concept),  the wordsovereignty evokes less noble imagery. Personally, when I hear the word sovereignty in English, I  think of crowns, thrones, guns and red velvet
But turning around the compass point of understanding  was precisely  one of the points of the Encuentro. In Latin America, soberania (the Spanish term for sovereignty) is the term that defines the growing movement to affirm self determination and independence from empire, the weaving of unique and diverse initiatives that reflect equally unique and diverse cultures and histories.
As the group gathered the first evening in the shadows of Venezuela's only volcano (a fitting image to the fire in the belly of these young people) bearing earth from each of their countries to share and blend, it became clear that their roots were in resistance.
Carlos from Argentina was returning to his roots in Venezuela, where he was born while his parents were in political exile from the Argentina dictatorship. Both had been tortured and imprisoned in the infamous ESMA.
Tanya of Mexico and Maria Luisa of Guatemala came rooted with the strength of their fathers' resistance to militarization, both fathers had been disappeared when they were young children.
Danilo brought the still burning embers of resistance from his friend Topacio, murdered just months ago for her resistance to mining in their mutual community in Guatemala.
Sandra brought earth from the desert where Arizona blends into Mexico, an earth made sacred by the passing feet of those seeking life.
For many of these young people, it was the first time they had ever been out of their countries, or on a plane. Adolfo lives deep in Bolivia's remote altiplano where transportation over dirt roads and ravines is scarce and treacherous, causing him to miss his scheduled dawn flight.  His organization ITEI, dedicated to healing survivors of torture,  resisted throwing up their arms, and instead found a way to get him on the flight the next day.
Jezell had to make the 24 hour trek from her community on the Atlantic coast of Nicaragua to Managua twice (to get her visa, then to travel) braving record floods, road blockages and transportation strikes. She left her three small children in the care of her family in order to share the beauty of the matriarchal society of her Miskita community that is struggling to defend  their own soberania. She left us with a poem about the love for Madre Tierra and awe for the power of America's women indigenous.
Sandino won the shortest distance award, traveling only about 8 miles to join us.  But when he took the group to his home community of Monte Carmelo where the dream of food sovereignty is a reality,  there was the feeling that this was perhaps his was the most distant reality from what the corporate military complex would hope for all of us.
With minutes to go before the bus to the airport took off, the 33 young people gathered at the base of the mountain for a photo. A double rainbow appeared over the emerald green backdrop,for the fifth or sixth time that week.  The Encuentro was held at my home in Sanare, where I have maybe seen such a double rainbow once or twice in twenty years. Something told me that nature was conspiring to let us know that a very special and very hopeful week had just transpired.
Well...transpired is not the best term. Just before the last photo the group had gathered in a circle to gift one another with the earth that had come from each of their lands and now been blended. Each participant scooped a bit of earth from the gourd and placed into their companion's  hand's, into a tiny colorful pouch (made from the Bolivian aguayo that had served as my dining room table cloth until a few hours earlier). Yannia, from an Afro Colombian community, had the last word. This is not the end of the Encuentro, she said, it's the beginning.
As I swept the floor along with some tears away as the last bus to Caracas left, I found a few colorful papers with the stated commitments of each participant. Below are a few phrases listing the personal commitments of some of the participants. I share  just to encourage you to read the full report written by the youth organizers that is forthcoming.
What a privilege to help organize and host this event, to serve as Chief Gopher, and to have my land blessed with the dancing feet,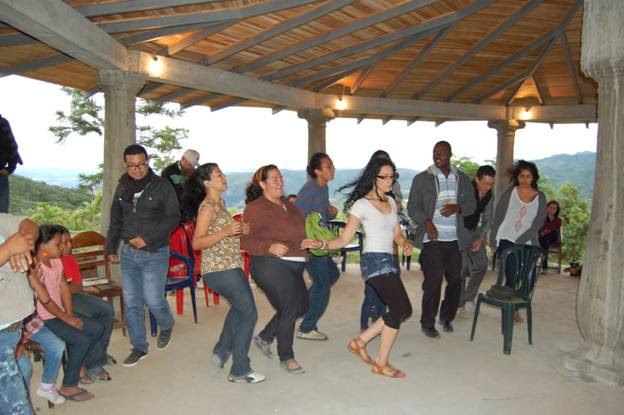 strumming hands, full  hearts and bold spirits of these 33 young people.
My neighbors, who are sheep herders and potato farmers and who cooked and danced with these young people will never be the same.  Their world and hearts have opened up.
That's also what Virginia - our young and capable facilitator of the event - told me: My life will be defined in two phases "before the Encuentro" and "after the Encuentro".  When I shared these words with Cristina, our wonderful Encuentro organizer for the South she immediately responded:that's exactly how I feel.
One of the colorful papers begins with gracias por invitarme a este Encuentro . I end this note with gracias to the dozens of people who made this possible. Gracias to my daughter Maia whose vision and determination carried this dream four years forward from its birth in the 2010 Encuentro,
Gracias to an extraordinarily committed anonymous young donor who jump started turning the Encuentro from dream to reality. Gracias to Bob for his indifatigable and contagious belief in young people. Gracias to Laura and Cile for opening their home to Irene, our wonderful Norte organizer. Gracias to Cristina for her calm and patience and unflappable dedication
Gracias to Maria Luisa who gave generously of her heart and multilingual skills to allow Haiti to be present among us
Gracias to all who pitched in $5, $10 and more, including my best friend who didn't even tell me.
As I prepare to leave my staff position at SOAW in 4 weeks, what a way to go! I take Yannia's words with me: this is not the end, this is the beginning!
Abrazos, Lisa
from Kaikauri at the base of the Fumarola mountain
in Palo Verde, Sanare, Venezuela - now an even more sacred land.
***********************
Papers found left at the encuentro:
Me comprometo a seguir construyendo una idea de paz que armonice vidas, tierra, pueblos y saberes.
I commit to continue to build the idea of peace that harmonizes lives, land, people and wisdom.
#
Me comprometo a continuar hermanándonos como un solo pueblo.
I agree to continue creating a brother and sisterhood as one people.
#
Me comprometo a sumarme a las luchas de mis compañeras y compañeros de hoy en adelante, ya que su lucha tambien es la mía.
I pledge to join the struggles of my fellow compañeras and compañeras from now on, because their struggle is also mine.
#
Me comprometo a seguir esta amistad con mis compas, porque lo personal es también político
I commit to deepen this  friendship with my companions, because the personal is also political.