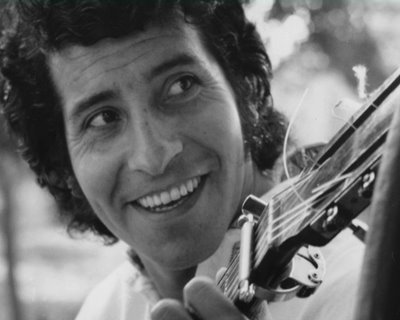 Forty-two years after Chilean folk singer Victor Jara was tortured and executed, charges have been announced against 10 former military officials.  A trial for the kidnapping, torture, and 44 bullet execution of Victor Jara in the Chile Stadium in Santiago is the next step.  At least three are SOA graduates.  A fourth SOA graduate, Pedro Barrientos, is facing a civil lawsuit in the United States by Victor Jara's widow and daughters as the US has failed to extradite him to Chile to face charges. Order postcards to send to the Justice Department urging the US to extradite Barrientos to Chile here.  And learn more about efforts for justice in Chile by joining Roy on an SOA Watch delegation to Chile this October 6-14th.
Decades after the 1973 SOA graduate led coup and the ensuing Pinochet dictatorship, family members of those executed and disappeared, survivors, victims organizations and human rights groups are still fighting for justice and making some progress, step by step, in the Chilean court system towards holding accountable some of the military and secret police responsible for so many atrocities. Just days before the charges were announced in Victor Jara's case, another Chilean judge ordered the arrest of 7 other military officers for dousing two photographers documenting protests against Pinochet with gasoline and lighting them on fire.  Many of those who ordered and carried out the executions, disappearances, torture, and other crimes during the coup and dictatorship were trained at the SOA.  And yet, Chile today continues to send almost 200 soldiers every year to train at the SOA-WHINSEC.  In fact, Chile send the second highest number of students to WHINSEC of any country, second only to Colombia.  This October 6-14, join Father Roy on an SOA Watch Delegation to Chile to request the Chilean government stop training its military at SOA-WHINSEC. Interested in joining us or supporting the delegation?  Contact This e-mail address is being protected from spambots. You need JavaScript enabled to view it .
The delegation will be hosted by SOA Watch Latin America Coordinator Pablo Ruiz and SOA Watch Chile.  We will join with them in meeting with government officials to urge Chile to join with several other Latin American countries in saying
No Mas, No More to the SOA.  The delegation will also meet with the Group of Family Members of the Politically Executed to hear about their continuing work for justice and memory as well as visit a former house of torture turned into historical memory museum.  Additionally, we will learn about the struggles in Chile today, including the powerful Chilean student movement and the Mapuche people's struggle for self-determination. Finally, the delegation will travel to Valparaiso to visit Pablo Neruda's home and meet with local organizations, and then join SOA Watch Chile and other groups for a protest at the Aguayo Military Base in Concon where the United States Southern Command has opened a military training center.
Interested in more information or joining the delegation?  Contact This e-mail address is being protected from spambots. You need JavaScript enabled to view it .  Can't join us but would like to support Father Roy and SOA Watch's journey to request Chile withdraw from SOA-WHINSEC?  Click here to support the Delegation Scholarship Fund to enable young activists from Latin America to join the delegation.
And stay tuned!  In February, SOA Watch will be traveling to Colombia for a delegation and also recruiting a small group of activists to the accompany the Colombian Ecumenical Comission for Justice and Peace on a Pilgrimage for Peace to the Cacarica River Baisin, the site of a binational Military Base on the Colombian-Panamanian border that is accessible only by foot or helicopter and the site of many human rights violations, for the 19th anniversary memorial of Operation Genesis.  Interested in the Pilgrimage or supporting leadership of young activists who are the future of our movement in US and Latin America by enabling them to accompany the Colombian Ecumenical Commission for Justice and Peace on this important journey?  Click here to donate to the SOA Watch Delegation Scholarship Fund to support the Chile or Colombia solidarity delegations.
For more information about joining us in Chile or Colombia or how you can support either effort, please contact This e-mail address is being protected from spambots. You need JavaScript enabled to view it .
See you November 20-22 at the gates of Ft. Benning, Georgia!
Brigitte Gynther
SOA Watch Latin America Liaison


P.S. The Fall 2015 issue of Presente, the newspaper of the movement to close the SOA, is going to print at the end of this month. Click here to bulk order a box to distribute in your community!