From November 16-18, over two thousand people converged at the gates of Fort Benning. Though the road to justice may be long and difficult, we have no doubts that we will continue the fight! Check out a few of the reports from activists who attended the Vigil weekend.
(first two photos and last by Andrea Briceño)
---
The Audacious and Evangelical Experience of Crossing the Line
(In gratitude to Father Roy Bourgeois)

In the midst of thousands of demonstrators, a man with his head painted completely white and his whole body covered in black and white, spelling the words Study war no more approached me, gave me a hug and said "Bless me, Father, for I will cross the line".

Straight away he climbed the huge barbed wire structure protected with spikes. He held unto the fence staunchly with his thick gloves and jumped to the other side of the wall, one of his gloves staying behind entangled on the wires. Heavily-armed soldiers on the other side captured the 60-year-old man and led him inside the fort surrounded by a strong operative, where he disappeared from my sight and from the sight of the thousands of people who had witnessed his civil disobedience act. Some looked bewildered, some had tears in their eyes, and all of us yelled in unison that the School of the Americas must close down.

It happened at the end of the procession full of crosses that ended the activity organized by SOA-W (School of the Americas Watch), the Observatory of the School of the Americas, and which, year after year, rallies hundreds of organizations and activists together to proclaim their solidarity with the victims of military repression and demand that the School of the Americas be shut down. This anti-military action takes place around the date commemorating the murder of six Jesuit fathers and their two helpers, at the Central American University (Universidad Centroamericana UCA) in San Salvador.

Activities began on November 16 with an encounter for people belonging to religious orders, convoked by "Pax Christi" in order to pray and reflect upon the new kinds of war equipment, such as  "drones", planes manned from operation centers and which are launched against specific, previously identified victims. In essence, the memory of the Jesuits murdered by officers trained at the School of the Americas and who bore weapons manufactured in the United States hovered in the background. I was listening to the presentations and songs when I heard my name. They were calling on me to close the event, which had been full of mystique and words from the Gospel. I was surprised by how deeply my words were in tune with the atmosphere surrounding the event. It was a spiritual, struggling atmosphere, full of gratitude and memories that I could breathe in among the hundreds of people congregated in the room of that University. Hugs and applauses bound the participants together in a single voice as we sang, at the end of that first evening, the emblematic song "We shall overcome". I felt myself to be friend and brother to so many people I had never seen before in my life, and the profound flavor of the demanding and loving presence of the God of Life. It was all I could do to keep Lucy and Pamela –two friends who share in the same Spirit and who have accompanied me constantly and been very near my life the past two years—from discovering my tears of gratitude.

After the first events, we went to the area surrounding Fort Benning in the County of Columbus, on the border between the State of Georgia and the State of Alabama. It was like a full-fledged popular fair posters, tee-shirts and huge banners dotting the event with legends against war and demands to close down the school of assassins permanently. In the background, a few meters from the main gate of the military installations, a huge scenario had been erected. On it a musical group was singing songs in "Spanglish" evoking the counter-culture of resistance struggles all across the continent. From the distance I could make out the leading voice of the protest song group, its pitch being very familiar to me. It was the activist and singer Francisco Herrera, from San Francisco, California, whom I hadn't seen since 1987, the year we had met, sang and walked together accompanying the return of forcefully displaced people and war refugees, back to Salvadorian soil. Back then, grey hair and thickness around the waist were still exotic for us, something just belonging to 'old people'. The hugs and forceful expressions of solidarity from Radio Progreso and the ERIC were the best testimony to the fact that distance and all the years that had passed between us had done nothing to separate us. Francisco and his people in California truly know us well and they have shown their solidarity with the people of Honduras after the blows our homeland received in the form of a coup d'état in June 2009.

On November 17 the official inauguration of the SOA Watch vigil took place, a great crowd of people gathering in the main hall of the University of Columbus in Georgia. The event began with the virtual greetings of those in several countries of Latin America who were joining us on a giant screen. Then they asked us to speak in "whispers" to whoever was standing next to us, telling them what we do in our communities against militarization. I had to talk to a Canadian of Oriental origin. In my broken, not-at-all-perfect English I managed to tell him that in Honduras we seek to raise awareness and to train people through radio communication networks active in the struggle against violence and inequity.

The highlight of the inauguration was the official recognition voiced for those countries in Latin America that have to date withdrawn their army officers from attending the School of the Americas: Venezuela, Argentina, Uruguay, Bolivia, Ecuador and Nicaragua. It was an act of "deserting" allowing these countries to "Graduate in Sovereignty". SOA Watch allowed me the honor of presiding this "graduation", expressing what it means to break free from the School of the Americas and to award a symbolic diploma of graduation in sovereignty to the six Latin American countries in question that have deserted from the school of assassins. We concluded the session listening to the beautiful music of an Andean Group made up of youngsters from the United States of Latin American origin.


On Sunday November 18, as each of the myriad of pre-candidates in Honduras were striving to lead the people to the ballot boxes to deposit a vote in their favor, a multitude of civil and human rights activists crowded around Fort Benning to take part in a procession honoring faith and memory. Each of the participants held a cross in our hands, while a choir directed by Francisco Herrera called out, name by name, the Stations of the Cross of those assassinated under the orders of School of the Americas graduates. The names of the martyrs killed at the UCA University fused together with the names of our other martyrs from Honduras and throughout Latin America and the Caribbean. .

The procession was headed by a banner saying "From the School of the Americas to the border ¡No more deaths!" and holding the banner was, among other people, the indisputable founder, soul and guiding light of SOA Watch, Father Roy Bourgeois, who asked me to walk alongside him in this procession of love, struggle, resistance and spirituality. Across from us there was another banner held by a woman leader from Colombia, one from Guatemala, one from Mexico and one from Paraguay. And so it was that I marched alongside Father Roy, who headed the procession followed by thousands of activists, many of them young people in the very flower of their joy, young people from all corners of the United States.

The procession filed past the huge barbed main entrance to Fort Benning. And each of us placed  the cross we had been carrying at the gate of this school of assassins. There were so many crosses left on the huge barbed wall that eventually it was completely "crucified". Each one of us, in silence, laid down his or her cross, while in the background the voice of Francisco Herrera and his group continued to speak out the litany of continental martyrs. And this is how we were standing when the 60-year-old man, member of the Christian community "Koinonía Farm" born fifty years ago during the struggle against racism in South Atlanta, approached me to ask for my blessing before he jumped the barbed gate and was put in prison in the name of freedom and peace for the peoples of the world.

Nobody could have imagined at that moment –and me especially--, that Father Roy, due to his personal testimony in defense of evangelical equality between women and men within the Catholic church, was about to receive, just the following day, a letter expelling him from the Catholic church. El The man with his face painted white and Father Roy, each in his own way and from his specific spirituality, both decided to cross the line of orthodoxy, formal legality and prudence. Both of them knew their stand would mean a severe punishment. But by losing their civil and religious rights, they have won the right to continue convoking the fiery struggle for peace, justice, freedom and equality, unequivocal signs of the glorious presence of the God of Life and His kingdom.
---
Nina Kanakarajevelu, Washington, DC:
I had never been to Ft. Benning before last weekend.  As I drove in with my group, I spotted countless pawnshops, liquor stores, and strip clubs: all the traditional markings of a depressed town.  I remember thinking it was a rather strange setting for an infamous military facility like the SOA.

The suffering of Latin Americans as a result of our foreign policies is happening on such an immense scale that its horrors can be hard to truly comprehend. Yet, this weekend at Ft. Benning, I felt I could see it everywhere: in the haunting procession of crosses at the Sunday vigil, the determined faces of the hundreds of activists gathered, and most notably in the heartbreaking testimony of Guatemalan mining activist Yolanda Oqueli as she recounted the emotional and physical toll her work has taken on her life.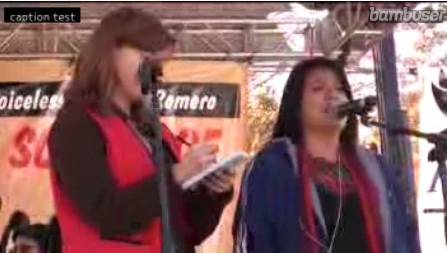 Yolanda Oqueli's workshop was one of the few I was able to make it to in full and I found her speech incredibly moving and an instructive lesson on the struggle for land rights in Guatemala. In front of a packed room, Yolanda haltingly described her narrow escape from death and the constant vigilance she is forced to live with since her assassination attempt. Her voice was choked with tears as she recounted how her work as an anti-mining activist had made her a recurring target and the stress of going through all of the fear and uncertainty alone, away from her husband and children. She was adamant however, that despite it all she was still there, and that her community's insistence on a peaceful, nonviolent stance was what made them so powerful.  Indeed, what touched me most was how proud she was of her community's courage and solidarity in the face of so much military oppression. In one instance, Yolanda's community was able to summon over 4000 residents in half an hour to stand off against the military, who were so stunned by the showing that they turned back. These are the stories that inspire me to stand in solidarity with people who live every day under such unrelenting repression.

When you read the stomach-churning descriptions of "counter-insurgency" tactics employed by SOA graduates including torture, rape, and murder routinely used to terrorize and suppress dissent, it's hard to know where to begin fighting back.  Many times this weekend, I wondered what the police who are witness to this vigil, year and after, were thinking when they hear the stories of survivors like Guatemalan activist Adriana Portillo-Bartow who lost nearly her entire family to the unrelenting brutality of the Guatemalan security forces. Does it make them wonder what exactly those soldiers are learning behind those gates?

I find it heartening to see that, year after year, so many people make it to Ft. Benning.  I found this gathering particularly interesting in that unlike many protests, the gathering was quite diverse. I saw several hundred college students protesting alongside seasoned veterans, chanting and singing together in unison during the Sunday procession. Even as cynical policemen and military personnel behind the gates looked on dismissively, I felt inspired by the spirit of resistance at the vigil and the presence of so many students, nuns, veterans and other people of conscience coming together to remember and fight back. That's why I came too.
---
Rodstarz (of Rebel Díaz Arts Collective), Bronx, NY:

Over the weekend, thousands of people once again converged on the gates of The School of The Americas, the U.S military training school that has historically trained Latin American  military leaders in torture tactics and social control.  The yearly 3 day gathering, which is organized by The SOA Watch consists of  educational workshops,  Resistance Concerts and is culminated by a peaceful vigil. It is attended by different human rights activists from all over the world, ranging from students, to Jesuit groups, nuns, reverends, churches, Son Jarocho groups, Hip Hop Collectives, farm workers, MECHA students and more.
This past weekend Rebel Diaz was invited to perform during the Saturday concerts of the event. We were blessed to be able to share the stage with our father Mario Venegas, whom under the military dictatorship of Gen. Augusto Pinochet, was a political prisoner for 4 yrs. While incarcerated in various concentration camps he was tortured by School of The America trained Chilean military.
it was a powerful experience to hear our father name his torturers while standing in front of the gates of the SOA.
Later that night folks gathered at The Columbus Convention Center to participate in the workshops and attend the concert. The workshops varied from a screening of Harvest of Empire, the new doc on Juan Gonzalez book, to The Stop the Killer Coke campaign, to workshops on Chile, Venezuela, The Coalition of Immokalee workers and more.
While we were in between workshops we encountered an interesting yet intense situation. One of our comrades identified some undercover police officers or FBI agents whom he had filmed and identified about two years ago. We were familiar with the footage and it was indeed them! While we gathered up to figure out our next move, it became apparent that they had recognized that their cover was blown. They then proceeded to split up as did we. We identified three of them from previous years, and it was evident that there was about 3 more.
My bro G1 and myself went over to the Killer Coke booth and then we realized we were surrounded! If there's anything that upsets police it's the idea of not being in control of a situation. As they aggressively approached us in an attempt to intimidate us, I loudly asked my brother if he smelled something? To which the tallest agent stepped right up to my face and menacingly asked me What the Fuck did you say? His response verified our suspicion. We have experience dealing with overly aggressive police from living  in The South Bronx and constantly dealing with The Stop and Frisk plague, so we did not allow ourselves to be provoked or intimidated.
We politely yet assertively asked them to take a step back and respect the personal space while loudly letting everyone around us know that we were being infiltrated by undercover agent provocateurs. Instantly cameras were on them, to which the embarrassed yet unafraid officers admitted they were cops. They refused to leave stating that they had a right to be there. However,  they were followed by cameras and the Son Jarocho groups surrounded them playing music and resisting their presence. Eventually they all were corralled into the Killer Coke in Colombia workshops, to.which they eventually left.
Now while this may be viewed as a Peoples Victory, we have to understand the severity of what we are dealing with. It is not a secret that the FBI and Cointelpro has historically infiltrated political movements in an attempt to disrupt them and eventually destroy them. Those eight officers were there to take.intelligence, to gather information, to disrupt, and provoke. If they did not have bad intentions why were they armed? Why were they undercover and not in uniform? They invaded a safe space full if elders and nuns and made it unsafe. What if we weren't trained in what to do when physically  provoked by the police? If I was 21, I for sure would be in jail now. There has been a recent history of The SOA being infiltrated in recent years. However this year we had the example of what happened in Chicago our hometown, in which we had the case of The NATO kids who were framed and entrapped by undercovers and now face serious terrorism charges. The fact that they are infiltrating a super peaceful and religious movement like The SOA Watch, proves to us that for sure theyre also infiltrating in other fronts.
The following morning at The Sunday vigil, we were once again tailed, this time by new undercovers, who were making it a point to photograph Rebel Diaz. We approached and asked them if they wanted a close up? With an evil smirk one responded ".. of course we want pictures of you guys, you're famous musicians from New York." Letting us know that they had done their research. It's time we do our research too.
What we are dealing with is a present in which The NDAA Act and The Patriot Act are criminalizing any type of dissent or view that questions Imperialism and Capitalism. We are clear that a peaceful movement that exposes the bloody hands of the US all over Latin America , is being attacked directly by intelligence agencies, who don't want their dirty laundry aired. Who don't want the world to know about the assassination of Monsenor Oscar Romero in El Salvador, that don't want the world to know the powerful Mexican drug cartel The Zetas were trained at The SOA, as paramilitaries to squash peasant uprisings, they don't want you to know they trained torturers who disappeared and killed thousands in Chile, Argentina, Uruguay, Guatemala, Nicaragua, Colombia, Paraguay etc. They want to silence us and we refuse to be silenced. We refuse to be scared, however we must all be focused and aware. A couple of elders, were critical of our loud and assertive response to the officers, however we feel that we can't allow intimidation tactics to silence us. We must call out and expose these infiltrators, so that they can't finish their work. We can't allow them to destroy and incarcerate another movement.
---
Dominigue Diaddigo, Minnesota:
The solemn, autumnal procession.  The listing of the names that is added to every day.  Names among names, raising with sound and air to the sky.  Each name becoming so much more than the sum of their parts with each recitation: "Presente".  For whom did we assemble?  For what?
I came to Ft. Benning, Georgia for a clearer understanding.  Not seeking to absolve my own complicit guilt, nor to receive the catharsis which I felt I so needed.  Nor did I come to answer the many questions which I'm sure all of the attendants still wish to understand.  By now I know how, where, and why such an atrocious order is still being inflicted upon the planet.  I came to Ft. Benning to know who, and to remember these individuals, as one can not be made to forget an ongoing endeavor.
I am not the direct descendant of the many nations who have suffered unquantifiable misery at the hands of the military repression which is the doctrine of the School of Americas.  Though in spite of that fact, this is still my own struggle.  I, too harbor grief.  I, too, know pain.  And like my relatives throughout the Americas and across the globe, I must bear witness to the legacy of those among us who have not survived.  I cannot live without accepting responsibility for the actions of my government.
It was from within these resolved understandings that I took the trip to Ft. Benning, sponsored by Veterans for Peace, Chapter 27 of Minneapolis, Minnesota.  Though no level of understanding, no resolve to seek and establish justice, could provide an adequate foundation for the long line of mourners which would bring my to my knees in sharing their grief.  And though the tears rocked me, they also stirred within me something greater, something powerful, something ancient.  My own mourning has drawn from a deep well of personal experience not only pain, but power.  Not grief alone, but honor.  In as much as I came to mourn loss, I received an affirmation of hope, and of the strength of the people who refuse to allow injustice to continue unchallenged.  I left Ft. Benning stronger, and ready more than ever to fight for love, justice, and peace until the battle is won.
This fight is unlike the wars being fought by our fellow brothers and sisters in uniform.  For this is no testament to human greed, or the insecurity of power, but a struggle of those who have decided that this is not the world we shall have our children inherit.  Our resistance, our revolution, our battle, is allied with the planet Earth, and its inhabitants who will not look toward a future of devastated environments, degraded communities, and forgotten and disregarded human lives.  The struggle is but the smoke which is trailing a centuries-old fire of violence and misery that will be extinguished, and soon.
I left a part of myself behind at Ft. Benning this November, and I will not return to retrieve it until it is laying upon the final ashes of a world which has burned for too long.
---
In a lot of ways Cairo reminds me of Bogotá, with its heavy traffic, street vendors and military and police patrols. It is interesting to think about how the Middle East and Latin America are brought together by a shared history of US military intervention.

Last week I went to the annual vigil to shut down the school of the Americas, located in the biggest military base in the United States, where soldiers from around Latin America are trained to torture, murder and suppress dissent.  At the vigil, as a few thousand activists, faced with the power and imposing presence of US military might, it is easy to become disheartened.  I find hope however, in the knowledge that despite overwhelming odds, these activists never give up.  They come back to hold vigil year after year because they understand that the struggle against western imperialism is a long one.  The length of the struggle for true autonomy and democracy is especially evident here in Egypt.  Nearly two years after the revolution that wrested off US backed Dictator Mubarak, the reverberations can still be felt.
*Eva is currently in Egypt, headed to Gaza on an international delegation. Read her full report and blog here.
---
Tim Franzen, Atlanta, Georgia:
The rally and vigil at the gates was still very powerful this year, with over 2,000 people coming from around the country. This years vigil was a great opportunity to build networks between organizers across a wide variety of issues in person, which is a rare opportunity. The November vigil is maybe the only space I know that brings progressive/ radical people of faith, college organizes, organized labor, pro-immigrant groups, antiwar orgs, anti-racism movements together on this scale. This year brought a new layer of folks organizing around housing as well.

Georgia Peace and Justice Coalition hosted it's annual Georgia Activist meet-up, which brought folks together from Columbus, Augusta, Valdosta, Atlanta, and Marietta. The yearly gathering produced that same kind of cross pollination opportunities that the overall gathering provides on a national level.
Read more from Tim on the American Friends Service Committee-Atlanta Blogspot
---
Pax Christi USA:
"The evening included prayer, music from Joe Jencks and old friend Jon Fromer, presentations from Bill Quigley on the illegality of drone warfare and Medea Benjamin's stories of the suffering caused by drones and the movement to awaken our nation to the destruction of remote control warfare, a question and answer period with our speakers, and more."
Read more from Johnny Zokovitch about Pax Christi's workshop at the SOA Vigil