In 1492 Christopher Columbus landed in the Americas effectively setting into motion 520 years of colonialism of the peoples of the Americas.  The history of these five centuries has been marked by acts of resistance to this colonialism.  This year is no different.  As individuals and communities plan to gather at the gates of Fort Benning in his namesake of Columbus, GA, we call for nationwide resistance!

SOAW has a more than 20 year old tradition of creative action as one of our many strategies to Shut it Down! Once again this year in solidarity with our Latin American brothers and sisters and all those marginalized in the Americas we call for acts of nonviolent action as we continue to struggle for a world in which we all may thrive.

To get us started, the SOA Watch Direct Action group is calling on individuals and groups to help us create 520 memorials to honor those who have been victims of SOA/WHINSEC. These memorials can take the form of the traditional cross symbol or expand to new symbols that embody our commitment to remember, to honor, and to resist.

These memorials can be on display over the weekend and incorporated into the Vigil Sunday morning. If you'd like to add some names of SOA victims to your memorials, contact us at This e-mail address is being protected from spambots. You need JavaScript enabled to view it and we can send you a list of names. 

We also welcome any new or old ideas for creative action that create hope, teach resistance, and honor the nonviolent tradition SOAW has fostered since 1990.

In this time of social and political upheaval, we seek to creatively illustrate why we call for the closing of the SOA/WHINSEC. The work to Close SOA/WHINSEC cannot be contained within the gates surrounding the streets of Fort Benning, but is pervasive in communities throughout the nation.  Join us in speaking truth to power!
What are some other inspired acts of nonviolence that I can do in my community or at the Vigil?
1.    Get your group to make memorials for the 520 campaign. See above! Contact This e-mail address is being protected from spambots. You need JavaScript enabled to view it for more help.
2.    Decorate your car, van or bus that you travel in to the Vigil!
While you're on the road, why not let your fellow highway travelers know what you stand for? With simple window paint ($3 at a fabric store), you can write creative phrases and images on your vehicle. Check out the SOA Watch justice-mobile that toured the Southeast in October 2012.

3.    Hang a banner!
It doesn't take a lot of skill. For a simple banner, use acrylic paint on an old bedsheet works great. SOA Watch activist Irene Rodriguez in Boulder, Colorado, has offered to make banners and ship them to you (contact This e-mail address is being protected from spambots. You need JavaScript enabled to view it or 303-229-8725). Banners put up in different locations draw a lot of attention!
4.    Put up posters around your community! With a little bit of wallpaper paste (something like this; or you can make your own, using this recipe), you can put up posters around your town, letting people know about the Vigil coming up.
Download a sample poster and print on 11"x17" paper

In Argentina, children of those disappeared under the SOA-led dictatorship started publicly denouncing those assassins and torturers who were quietly living in their neighborhoods, after the fall of the dictatorship. The group HIJOS coined the term "escrache" for their actions of public denunciation. Check out this wanted poster of SOA-trained General José Efraín Ríos Montt used by organizers in Guatemala, who used the same "escrache" model.
Who knows, maybe there are torturers being trained in your neighborhood and a poster can call attention to it?!
Remember to check your community ordinances about pasting up posters before you head out to the streets!
5.    Join the 1-day fast on October 30!
Fasting has been present in all the world's spiritual traditions. Fasts help focus an individual or a group, deepen ones commitment, and have often been used as an effective nonviolent tool for achieving social change. SOA Watch is calling on human rights activists to engage in a 1 Day Fast to Close the SOA on October 30, in the lead-up to the November Vigil at the gates of Fort Benning, Georgia. Participants in the fast will abstain from food and only drink water on October 30, 2012. www.SOAW.org/fast

6.    JUST DO IT! Whether it's a sit-in, letter writing campaign, banner hang, info session, demonstration, etc… big or small, all nonviolent actions make an impact!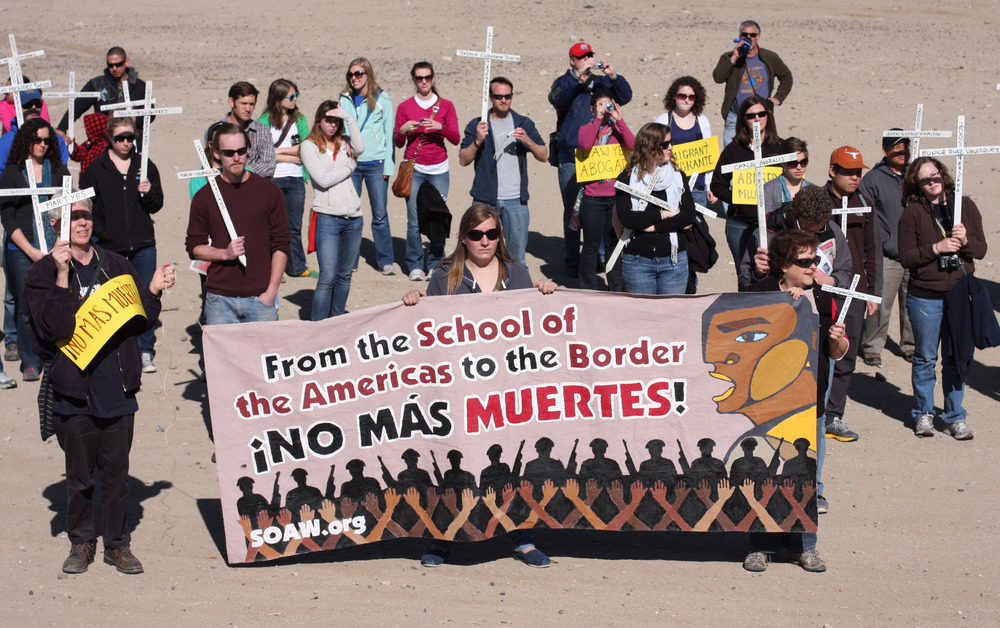 7.    Gather an affinity group and contact This e-mail address is being protected from spambots. You need JavaScript enabled to view it if you plan to take more daring risks in Columbus, Georgia!


8.    Tell us about your action!  Contact SOA Watch and tell us about your action. You can also post your pictures directly to the SOA Watch Flickr page (group name: soaw; http://www.flickr.com/groups/soaw/pool/). All actions will be acknowledged at the November Vigil.



Questions?
Contact SOA Watch at: This e-mail address is being protected from spambots. You need JavaScript enabled to view it

Check out this picture of an SOA Watch Vigil poster that was spotted in downtown Atlanta, underneath the mural of Civil Rights-icon and anti-SOA activist Rep. John Lewis:
Also spotted in downtown Atlanta was the SOA Watch Vigil poster on the sign of the Paul D. Coverdell Legislative Building. Paul D. Coverdell was a big supporter of the SOA, and when its name was changed in 2001, he admitted that the name changed allowed the SOA to "continue its purpose."